Educate Public with High Impact Gas, Electric Safety Models
2014-09-18 12:10:28
Moore Syndication offers the best electrical and natural gas safety models in the industry. Thoughtfully designed and constructed by a former utility safety presenter, the models are lightweight for easy portability and durable for years of use with proper care.
Manufacturer's prices are increasing effective January 1, 2015, so now is the perfect time to order your safety model! Pricing below expires on December 31, 2014.
The models provide a lasting impression to your audience. The dramatic arcs of the electrical units provide a memorable safety experience. A loud hiss of escaping compressed air indicates ruptured lines on the gas model. Use these valuable tools to protect the public and demonstrate due diligence on behalf of your company. See the models in action in video links below.
Watch online videos showing safety models in action:

• Powertown Demo shows features of our most popular electrical safety model.
• Powertown Setup shows the ease of setting up the safety model.
• Natural Gas Safety Model shows features and setup of the gas safety model.
The Powertown Electrical Safety Model is available in four-foot and eight-foot versions. The four-foot version (base price $4,650) allows presenters to show hazards of contact with open padmount transformers, kites and skimmers near power lines, contact with ladder at service drop, and television antennas as well downed lines on vehicles and fences. An optional "call before you dig" addition is available for $350.
The eight-foot version (base price $5,650) adds a second table to the four-foot unit. Utilities may choose a lake scene version with a substation, or an agricultural setting for the second table. All models include a customizable table skirt (your logo in place of Moore logo in picture above).
For more information, please contact Rick Moore at 205-871-8819.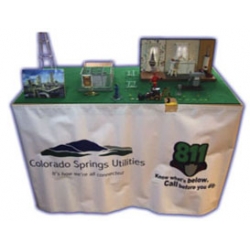 The Natural Gas Safety Model (base price $4600) employs compressed air to simulate leaks in the distribution system. The model features a cutaway house section that allows presenters to discuss common hazards in the living room, kitchen and garage. A gas meter and excavation site are located in front of the house for discussion of additional hazards. The model displays a pumping station and a series of valves for discussion about safety around these facilities. The model also displays a well head and photo of a refinery to complete the public's understanding of the distribution system.
Valves located behind the house allow the presenter to direct the air to the excavation site where it escapes through the gas line, simulating a line break. Two additional valves can direct pressurized air to escape at the pressurization station or at the meter, creating an audible hiss.
Customers can order the optional 5 gallon air tank ($50) or supply their own. The tank can be easily filled at a service station or with an air compressor on a utility truck. Alternately, a small compressor with a tank can be coupled directly to the model.
For more information, please contact Rick Moore at 205-871-8819.