AGA Recognizes Gas Programs
2016-04-07 10:32:02
Moore Syndication's Energy Underground® and Sniffasaurus® programs were recognized in the November 2015 issue of American Gas magazine, published by the American Gas Association.

Energy Underground is a subscription-based website that is branded throughout. It contains extensive information about natural gas science and safety. The site is segmented for different age groups and includes a dedicated section for teachers.

Sniffasaurus is a cartoon safety character who appears in Energy Underground. Additionally, utilities can use Sniffasaurus for separate campaigns by ordering "Sniffy" materials from the Moore catalog. These materials can be branded with a utility's logo, if desired. Utilities can license rights to broadcast Sniffy TV commercials and purchase costumes and display balloons.

Moore Syndication combines both programs for turn-key fulfillment campaigns to distribute utility materials to schools. Educators register and order free educational materials from a custom page in Energy Underground. Moore prints, stores and ships the offerings on behalf of the sponsoring utility. Materials and quantities are determined beforehand. Sponsors are regularly updated on the distribution.

Please contact Pam Moore at (205) 871-8819 or education@mooresyndication.com for more information about either program.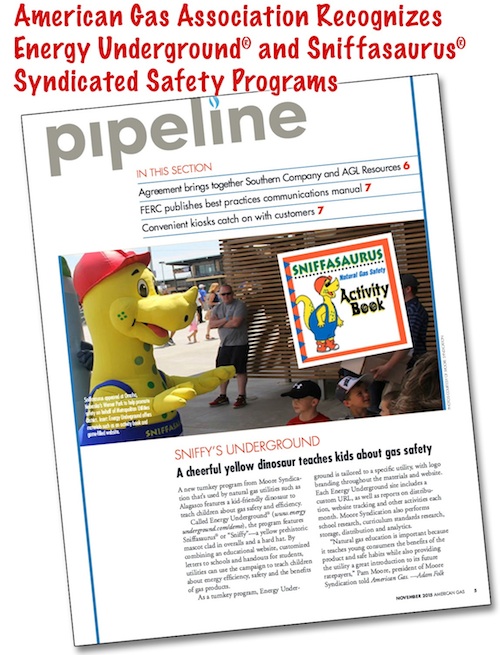 Please click picture for larger version of article.