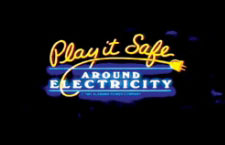 The 10-minute Louie "Play It Safe Around Electricity" DVD is now available in a subtitled version for viewers with hearing impairments.

Playable in television DVD players, the subtitled video is available for $49 plus shipping. To activate the subtitles, simply press the "Subtitle" button on the DVD player's remote control. The spoken words will appear in white text at the bottom of the screen. The DVD can also be played without the subtitles.

The standard DVD with no subtitles is also still available.