Powertown Models in High Demand
2017-03-22 13:01:51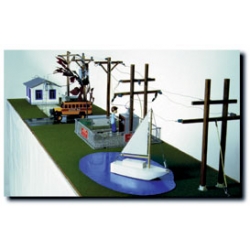 Moore Syndication's high-voltage safety models are in high demand. These highly effective models can be the centerpiece of any sized utility's safety outreach program. The dramatic arcs produced leave lasting impressions of contact hazards and captivate audiences of all ages.

Thus far in 2017, units have been purchased by utilities in Oregon, South Dakota, Kansas, North Carolina, Indiana, Texas and Alabama.

Safety Models include our base 4 foot model, the 8 foot powerTOWN (lake or farm options), Agripower (dedicated farm scene) and a high-voltage version of our smaller, Little House of Hazards model.
We have several videos showing the various models in action.